Shai Gilgeous-Alexander - Analysis of Rookie
Welcome to ''Analysis of Rookie'' series. Our subject today Shai Gilgeous-Alexander. Yazının Türkçe versiyonu için
buraya
tıklayabilirsiniz.
Pic 1
Long, agile, athletic.. These are the adjectives used for Shai Gilgeous. 12 July 1998 Toronto-born player 1.98 m tall and weighs 82 kg. His college career lasted for three years in Kentucky. In 2018, he was selected by 11 ordinary Charlotte Hornets and traded to the LA Clippers.
STRENGTHS
While counting the strengths of this talented name, we must write the physics of the beginning, of course. Although he is a tall player, he is very agile and athletic, gathering all the attention. The way changes he made together with the ball are really dizzying.
Gilgeous has a great defense, a one-on-one defense, a set defense, a very successful one. He can use the features I've just counted very well. In the last in college, he had a 1.8 ball steal play statistic per game. The NBA has so far played 0.8 ball and 0.8 block statistics.
And there's a very unspoken smash feature. In the last Kentucky year, 0.404 had three percentage points and 0.485 overall smash percentage. In the NBA, the 0.500 is currently playing with three points, 0.455 overall smash percentage.
WEAKNESSES
The biggest problem for Gilgeous can be shown as powerless physics. It is a clear disadvantage to have only 82 weights but this is a player that can be addressed. After arriving in the NBA 1-2 we all witnessed a lot of evolution to the players who evolved 😁
Another disadvantage is the field view. The Gilgeous, which has to pass well in his position, is somewhat lacking in vision. However, this is the disadvantage that I have just said, working hard with a professional team, can be drawn to high-level situations.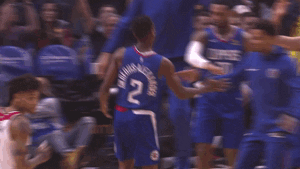 We analyzed the strengths and weaknesses of Shai Gilgeous-Alexander. Of course, it is still at the start of the road, but especially in terms of defence he is wonderfull. I suggest you keep your eyes on her and watch her progress. At least I'm going to do this.
Bibliography
Pic 1: www.twitter.com
Gifs: www.giphy.com
Informations: www.wikipedia.com
Statistics; www.espn.com